"An apple a day keeps the doctor away." Isn't that what they always say? What is it about these apples, powerful enough to keep the doctor away. There are approximately 7500 different varieties of apples, but what makes them so healthy?
Health benefits of apples:
Nutritionally speaking, apples are free of fat, sodium, and cholesterol, yet rich in antioxidants, potassium, high dietary fiber, vitamin C, and some of the B vitamins (niacin and B6).
A few other important nutrients include calcium, vitamin K, iron, copper, phosphorus, and magnesium. Some of the phytonutrients and flavonoids include quercetin, epicatechin, and phloridzin.
A some of the health benefits include:
Aids in digestion -Due to the high amount of fiber
Helps prevent certain types of cancer, such as colon and breast cancer.
Improve the microbiome – The fiber has a "prebiotic" effect, which means the apples feed our friendly bacteria
Boost immune function – The high amounts of vitamin C, antioxidants and protein help bolster a weak immune system
Helps control diabetes – The plant nutrients, or polyphenols, in apples help reduce the absorption of carbs in the body, which reduces blood sugar fluctuation in the blood.
Boost brain health and prevent Alzheimer's disease – The antioxidants and phytonutrients help reduce brain degeneration, which improves problem solving skills, memory and concentration.
Treat asthma – the nutrients in apples have an anti-inflammatory affect, as well as strengthen the immune system.
Prevent heart disease and lower cholesterol
Improve bone health and vision
Helps with weight loss
So, other than munching on a sweet, juicy apple, or baking a pie, how can you use this healthy fruit? Not to worry, I've scoured the internet and found 10 unique and SAVORY ways to eat apples!
🍏🍎AND HERE WE GO!🍎🍏
---
By: Science and Sprout
INGREDIENTS: (For complete recipe, follow this link)
1 large sweet potato, peeled
1 apple, peeled and quartered
1/2 onion, diced
1 tsp salt
1 tbsp arrowroot powder
2 tbsp spelt flour
1 tbsp olive oil
1 tsp turmeric
pepper to taste
optional: kale as garnish
Tahini Lemon Drizzle
3 tbsp tahini
juice of one lemon
1 tbsp honey (sub maple syrup if vegan)
water as needed to thin sauce
optional: squirt of sriracha
---
By: Wendy Polisi
Ingredients: (For the complete recipe, follow this link)
1

 

onion

 

chopped fine

1

 

large apple

 

peeled and chopped

1 1/2

 

cups

 

cooked quinoa

3 1/2

 

cups

 

chicken broth

 

or vegetable

1

 

cup

 

unsweetened apple juice

1/2

 

teaspoon

 

dried thyme

1/4

 

teaspoon

 

crushed red pepper

1

 

teaspoon

 

sea salt

1/2

 

teaspoon

 

fresh ground black pepper

8

 

ounces

 

cheddar cheese

 

or Daiya

3

 

slices

 

gluten free bread

1

 

tablespoon

 

dijon mustard

Chopped Chives
---
By: Well Plated
Ingredients: (For the complete recipe, follow this link)
1 pound 93% lean ground turkey
1/2 cup plain breadcrumbs
1 tablespoon extra virgin olive oil
1 large egg, lightly beaten
1 cup shredded tart apple, such as Granny Smith, washed with peel on
1 1/2 tablespoons finely chopped Simply Roundy's Fresh Sage
1 teaspoon garlic powder
1 teaspoon onion powder
3/4 teaspoon kosher salt
1/2 teaspoon black pepper
Chopped fresh parsley, optional for garnish
FOR THE CRANBERRY SAUCE:
1 cup whole berry cranberry sauce
1/4 cup unsweetened applesauce
2 tablespoons Simply Roundy's Pure Maple Syrup
Zest of 1 orange
1 tablespoon freshly squeezed orange juice
---
By: Healthy Nibbles and Bits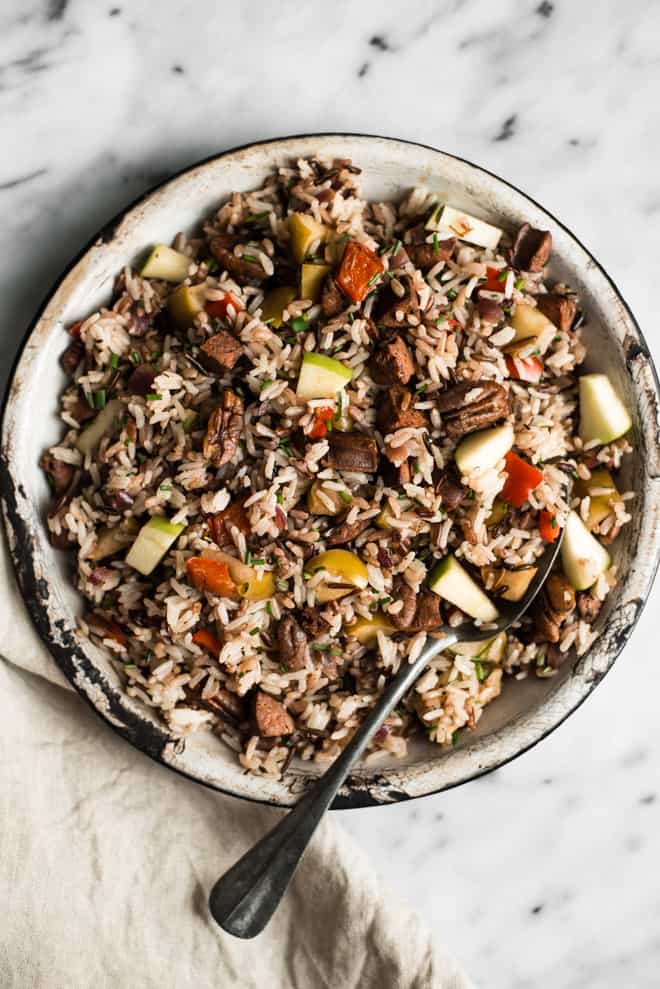 Ingredients: (For the complete recipe, follow this link)
2 cups uncooked rice (I used a wild rice and white rice blend, but any rice works)
3 chorizo sausages, chopped
1/2 medium red onion, diced
1 medium red pepper, seeded and diced
2 apples, cored and chopped (Author used Granny Smith apples)
small handful of pecans (1/3 cup)
juice from 1 medium orange (about 1/2 cup juice)
1/2 tsp dried thyme
salt and pepper, to taste
Optional toppings
chopped chives
lemon juice from 1/2 a lemon
---
By: Whitney Bond
Ingredients: (For complete recipe, follow this link)
2 cups diced butternut squash
1 cup diced apples
6 tbsp olive oil (divided)
½ tsp ground cinnamon
¼ tsp ground nutmeg
¼ tsp allspice
¼ tsp ground cloves
1 tsp kosher salt (divided)
1 tsp black pepper (divided)
8 slices french bread
1 cup ricotta cheese
4 cloves garlic (minced)
6-8 fresh sage leaves (chopped)
2 tbsp balsamic glaze
---
By: Home & Plate
Ingredients: (For the complete recipe, follow this link)
1 Honeycrisp apple, cord and thinly sliced
4 pieces of cooked bacon, crumbled
1/2 cup shredded cheddar cheese
4 flour tortillas
---
By: Bon Appetit
Here is a quote from the Bon Appetit website regarding this recipe:
"Named for a region in Normandy known for its apples (and Calvados), this traditional recipe combines both in a rich, creamy sauce. Afraid to flambé? Buy a long-reach lighter at a hardware store."
Ingredients: (For the complete recipe, follow this link)
5 tablespoon unsalted butter, divided

3 firm, tart apples (such as Pink Lady or Braeburn; about 1 lb.), peeled, cored, quartered

1 tablespoon olive oil

2 3½–4-lb. chickens, quartered

Kosher salt and freshly ground black pepper

1 leek, white and pale-green parts only, halved lengthwise, sliced crosswise ¼" thick

2 shallots, finely chopped

¼ cup Calvados (apple brandy)

¾ cup apple cider

4 sprigs thyme

2 bay leaves

½ cup low-sodium chicken broth

½ pound crimini (baby bella) mushrooms, trimmed, halved

½ cup crème fraîche

1 large egg yolk
---
Pork Loin with Apple-Cornbread Stuffing
By: Martha Stewart
Ingredients: (For the complete recipe, follow this link)
4 ounces bacon (about 5 strips), cut into 1/4-inch-thick strips

2 small onions, chopped (about 1 3/4 cups)

1 fennel bulb, trimmed and coarsely chopped (about 1 3/4 cups)

6 firm, tart apples, such as 'Northern Spy': 1 peeled, cored, and chopped (about 1 1/4 cups); 3 peeled, cored, and cut into 8 wedges each; 2 cored and cut into 8 wedges each

4 sprigs fresh thyme, finely chopped

2 sprigs fresh rosemary, finely chopped

10 fresh sage leaves, finely chopped, plus 6 whole leaves

Coarse salt and freshly ground pepper

12 ounces corn bread, cut into cubes (about 3 cups)

1/3 cup homemade or low-sodium store-bought chicken stock

1 boneless pork loin (4 pounds; about 1 foot long), butterflied (3/4 inch thick)

1/4 cup olive oil

2 cups apple cider

1 pound Cipollini onions
---
By: Sargento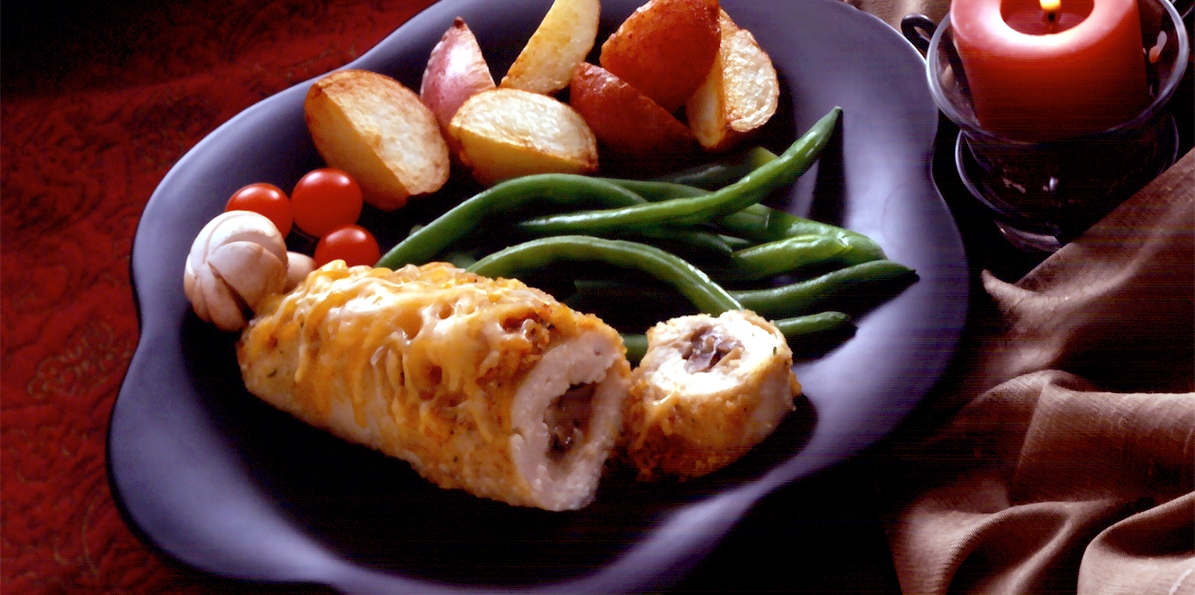 Ingredients: (For the complete recipe, follow this link)
1-1/4 cups (5 oz.) Sargento® Shredded Sharp Cheddar Cheese – Traditional Cut, divided
1/4 cup plus 2 Tbsp. mango chutney, large pieces of mango chopped, divided
1/2 cup finely diced apple
1/8 tsp. cayenne pepper
4 (5 to 6 oz.) boneless, skinless chicken breast halves,
1/2 cup fresh breadcrumbs, multigrain or whole wheat*
Paprika or smoked paprika (optional)
---
By: Rachel Ray
Ingredients: (For the complete recipe, follow this link)
2 tablespoons EVOO Extra Virgin Olive Oil
2 1/2 pounds boneless, skinless chicken, white or dark meat, diced into bite-sized pieces
Salt and pepper
3 tablespoons butter
3 Empire, Gala or Honey Crisp apples, peeled and chopped
3-4 small ribs celery, chopped
1 onion, peeled and chopped
1 bay leaf
2 tablespoons fresh thyme, chopped
2 tablespoons flour
1 cup apple cider
1 cup chicken stock
1 sheet store-bought puff pastry dough, defrosted if frozen
1 egg, beaten with water
---
CLOSING THOUGHTS:
There you have it. Ten unique and savory ways to use apples. Don't get me wrong. There's nothing wrong with apple pie. It's just nice to eat these healthy and delicious little gems in a different way now and then.
Until next time…Namaste my friends
Source: