With Thanksgiving behind us, the holiday shopping season has officially begun, and with it, we have #GivingTuesday. Each year, I publish a list of gifts that give back to those in need.
I always keep the previous year's list and
add 10 new companies.
This year, we have 50 companies!
I have gone through the list to check links and see if the companies are still active. A few changes were necessary, and I've compensated for a few losses. If you have one to add, please do so in the comment section, with a link and description! Thank you!
---
Whether you celebrate Christmas, Hanukkah, Kwanzaa or Yule (the pagan celebration of the winter solstice), this is the season for giving. It is my hope to help people get past the hustle and bustle, the decorating, the baking, annual holiday Letter, and get to the heart of the reason for the season: love of others, and giving to others.
What better way to do that than give a gift that gives back to those less fortunate?
It all began about 7 years ago when I worked for a local Credit Union. Part of my job there was to write their blog. Every year at this time, I would post my annual list of GIFTS THAT GIVE BACK: a list of organizations that sell items with one great bonus, with every purchase, something is donated to those less fortunate. I missed doing this, and decided to get back to it. I post a list of some of my favorite gifts that give back. If you are a regular follower of my blog, you'll know that one of my favorite things to do is highlight non-profit organizations. So, it seemed natural to include this list each year. (I'll also post a link to this list on my sidebar, so you can access it quickly, should you need to.)
This year, I have a list of 40 different organizations. If you have an organization not on the list, PLEASE feel free to post a link in the comments, along with a description, for everyone to see. THANKS
ON TO THIS YEAR'S LIST!
Everybody employs people with developmental disabilities,
"Over the last several years, Everybody Inc has employed 15 people and provided over 8,000 hours of employment. These hours of employment that Everybody has created equate to financial freedom and independence, buying power, dignity, and economic stimulation in our local community. Most of all, the impact of our brand brings equality and respect to individuals with developmental disabilities."
"Autism Speaks is dedicated to promoting solutions, across the spectrum and throughout the life span, for the needs of individuals with autism and their families. We do this through advocacy and support; increasing understanding and acceptance of people with autism; and advancing research into causes and better interventions for autism spectrum disorder and related conditions."
GlobIn is a monthly subscription box service.
"We started GlobeIn with the vision that there are millions of people working really hard around the world producing great products that are both beautiful and practical."
"GlobeIn is a purpose-driven company growing in parallel with entrepreneurial artisan partners from around the world with the aim of enriching individuals and their communities. We are devoted to transparent business practices, equitable and sustainable partnerships, and respect for cultural continuity. We strive to connect conscious consumers with delightful products and the talented artisans who make them, thereby strengthening the bonds of our global community."
Cause Box is a quarterly subscription box service
"We're committed to supporting small scale makers and artisans as a way to end poverty and protect the planet. We are passionate about women's empowerment and creating opportunities for marginalized and disadvantaged populations."
Earth Love is a quarterly subscription box service
"Every box supports a cause voted by the Earthlove community. We partner with environmental non-profits each season who protect our ecosystems."
Best Friends Animal Society
"The mission of Best Friends Animal Society is to bring about a time when there are No More Homeless Pets. We believe that by working together we can Save Them All"
Keeping Families Together
"In many places around the world, children are orphaned or abandoned because of poverty. We believe that no parent should have to make the devastating choice to give up a child because they cannot afford to care for them. By partnering with local Artisan Businesses in vulnerable communities, we help families earn stable, dignified incomes that allow them to keep their families together."
A portion of every purchase is donated to WIGS FOR KIDS.
Wigs for Kids is a non-profit organization that provides hair replacement pieces for kids that have lost their hair due to cancer, alopecia, burns, etc. This organization is very dear to our hearts and we are so grateful to connect with you and be part of this movement, together.
A portion of the proceeds from every purchase are donated to Living Heart Peru.
"Living Heart is a charity that is near and dear to our hearts. Having traveled out to Peru in 2017, it is our goal to bring color to the lives of children living in some of the most impoverished and remote areas of Peru. For every sale made on IllusionPhotograph.com, a percentage of each sale will be donated back to Living Heart"
For every backpack purchased, 25 meals are provided to families in need across the U.S.
"There is more food produced on the planet than can be eaten. At the end of each harvest, there are farmers around the world that have to throw away their excess produce that isn't purchased by major supermarket chains or restaurants. Through Feeding America, Adventurist buys this excess food in bulk from farmers across the U.S. and then distributes it to food banks in each state, helping to reduce the food waste in our country, support local farmers, and provide nutrition for families in need.
We work alongside the leading, national hunger non-profit Feeding America, to help provide meals to families across the U.S. This includes donations to over 200 food banks nationwide (such as Food Bank of the Rockies, Utah Food Bank, Los Angeles Regional Food Bank, and many more), helping to reduce the number of families affected by malnutrition and starvation."
"ONE HOPE was founded by eight friends with a lofty vision: to create exceptional products that inspire people to indulge while doing good. Our commitment to quality wine is as important as our commitment to the causes we support. To date we have made nearly $5 million in donations, planted 105,172 trees, helped 65,267 pets to find a forever home, helped provide 2,758,428 meals for children, and delivered 190,802 vaccines to end Neglected Tropical Diseases." ~ One Hope Wine
"Every candle purchase delivers a solar light to a person living without electricity in a rural part of the world." ~ OneGrid Candles
"ABLE is an ethical fashion brand that employs and empowers women as a solution to end poverty. We're deeply devoted to quality – both in the products we make and the quality of life we aim to provide. We invest in, train, and educate women so they can earn a living, break the cycle of poverty, and thrive." ~ Able
"Farm-fresh ingredients are used to create great tasting salsa and sauces. Profits from the sale of our products are used to alleviate the extreme poverty in our hometown of Immokalee, Florida."
"Working with business mentors in both classroom and field settings, our youth entrepreneurship program gives students from Immokalee and Naples real-world business experience."
"Students learn to solve problems and make a positive impact in their world. 100% of the profits are returned to Immokalee, changing the lives of our students, their families, and the community."
"Taste of Immokalee products meet the highest quality standards and align with the growing demand for products that are low calorie, low or no fat, and cholesterol free. When you purchase our specialty items, you're getting far more than great-tasting, healthy products. You're also helping to break the cycle of poverty in Immokalee and create a bright future for our students." ~ Taste of Immokalee
---
"Our gifts support the work of over 40 nonprofits and social enterprises in 19 states and 65 countries around the globe—in Africa, Asia, Central and South America, North America, & Europe." ~ Gifts for Good
"FEED is an impact driven lifestyle brand with an enduring principle at the heart of what we do—that people's choices of what to buy and wear have the power to change the world. We offer meaningful ways for you to make a difference, from the bags you carry, to the places you gather, to the meals you share.
Hunger is a daily reality for approximately 795 million people, and one of the most effective solution to combat this crisis is school feeding. With every product we sell, we provide school meals to the most vulnerable communities across the globe, through on-the-ground partners." ~ Feed Projects
"Our products, our non-profit partners, and our community work in unison to help people break the cycle of poverty.
We provide life-changing job opportunities to women in need. With each purchase you make we introduce you to the woman who made your product and invite you to visit her online profile to learn more about her." ~ Krochet Kids
"ME to WE Artisans was created in 2010, to connect women in Kenya's Maasai Mara to a wider market and a fair wage for their beautiful, traditional beadwork. Nearly a decade later, we now work with over 1,800 extraordinary makers in Kenya and Ecuador, from artisans to leatherworkers and cacao farmers, who we're honored to call not just partners, but friends—skilled entrepreneurs who are leading their families and communities to a bright future.
Each ME to WE product gives back to these same families and communities in one of five ways—helping provide education, clean water, health care, food security and financial opportunity. When you give a ME to WE gift, you're part of something so much bigger than a simple gesture. You're part of a sustainable cycle of good. And through our Track Your Impact promise, you get to see where and how you changed lives, with stories about the people and places behind every purchase." ~ Me to We
"Once upon a time the Hope District bustled with work that created wealth, dignity, and optimism. Residents and workers were warned that these economic boom times were threatened by global competition and complacency but they did not take heed. Because of that, things began to decline. Consequently, residents and workers lost wealth, dignity, and optimism. Until one day our community came together and created Detroit Friends Potato Chips food product as a way to add new purpose to vacant lots inside of the Hope District which in turn created opportunities for new employment that has created wealth, work, and helped to regain our dignity.
Some of the potatoes for these were born on a vacant lot in Detroit's Hope District. They were nursed is our soup kitchen for mentally and physically challenged. They are made by community activists in an effort to bring work, hope and dignity to our vulnerable community. Some proceeds go to maintain the soup Kitchen and to create other financially sustainable grassroots projects." ~ Detroit Friends Potato Chips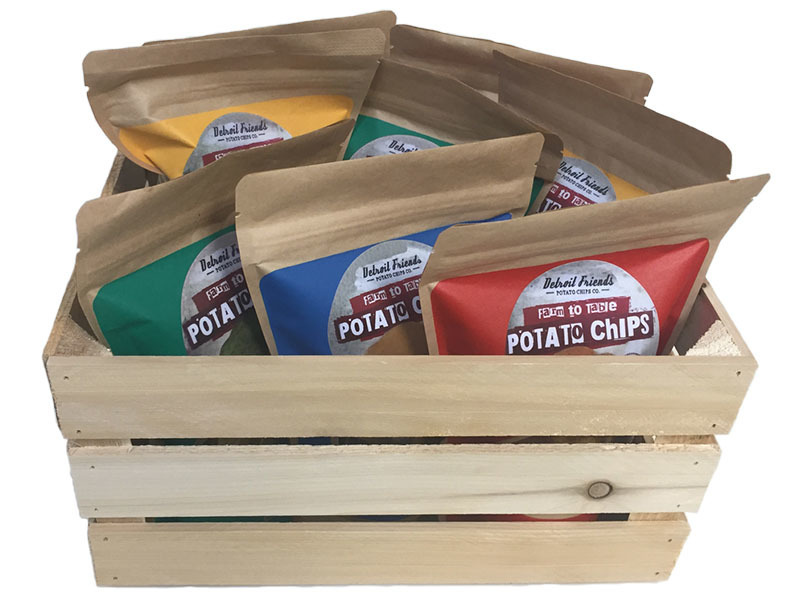 "In 2011, we stumbled upon an article stating 5 million children die each year from water related illnesses. After some research, we learned that 45% of these deaths could be prevented with simple hand washing alone. We decided to create a household product that could also save lives and Hand in Hand Soap was born!
To us, finding the right non-profit to partner was about working with an established organization, with people we liked and trusted. We found the perfect match with world-wide child advocacy group, My Neighbor's Children. Through them we focus our donations in Haiti because they have been working there for the past 25 years & understand where the need is greatest. " Hand in Hand Soap
For every bar purchased, Hand in Hand donates one bar of soap and one month of clean water to children in Haiti.
WHAT WE GIVE:
THE YOOBI CLASSROOM PACK:
"We determined the most fundamental tools to support learning and creativity, and we identified which items teachers are most likely to buy for their classrooms out of their own pocket. We then made special Yoobi school supplies and boxed them up to create a Yoobi classroom pack."
"For each bottle sold, Dopper gives 5% of the sales to both water and sanitation projects, helping to increase access to clean drinking water"
From the founder:
A few years ago, I discovered a way to embed the act of doing good into the gifts we give. Packed with Purpose was born out of my desire to create social impact while recognizing the importance of gifting in fostering meaningful relationships.
My experience as a Peace Corps Volunteer and social impact consultant inspired me to create these gifts that give back.
Our gifts create deep societal impact through the everyday act of gift-giving, delighting gift givers and recipients alike. From empowering women in need of a second chance to supporting sustainability efforts, our gifts help transform lives, enrich communities, and preserve the environment.
Whether you're looking for gifts for business clients, employees or friends, I hope our gifts leave you feeling more inspired than ever.
Together, we can create more impact.
With Gratitude,
— Leeatt Rothschild
" When you buy a jar of Good Spread, you send a treatment of MANA Ready-to-Use Therapeutic Food to a malnourished child. We believe that the collective action of socially conscious consumers can put a dent in global malnutrition. "
"Plants from pencils? That's right – once you've finished with your Sprout pencil, plant it and watch it grow into fragrant herbs, luscious flowers or even fresh vegetables."
"…donates 50% of the profits to support pediatric cancer research and families affected by cancer."
"…supports organizations that help improve lives around the world by providing access to safe water."
"For every
STATE

bag purchased,

STATE

hand-delivers a backpack – packed with essential tools for success –
to an American child in need."
"…for every doll sold, cuddle+kind gives 10 meals to children in need."
"…HEALS, EMPOWERS, AND EMPLOYS women survivors of trafficking, prostitution, and addiction."
…Will donate one book to someone in need, for every book sold.
"…promotes and sells items made by survivors of abuse, conflict or disease from around the world. "
" Proceeds from sales of all LSTN products go towards giving hearing aids to people in need worldwide through our charity partner,
…supports animal adoptions over purchase. Donates profits to animal rescue organizations around the country."
…
"…make pregnancy and childbirth safe for every mother, everywhere. The Orange Rose is a powerful reminder that safer motherhood is possible. It represents a beautiful, vibrant and strong life, like that of a mother who has been supported through pregnancy and childbirth.
"20% of all proceeds received by Grounds & Hounds Coffee Co. will be donated to our rescue partner located closest to you."
"… is built from the ground up around the idea of sock donations. The more socks we sell, the more we donate. And as we grow, our giving and community efforts will continue to grow right alongside us.
One pair purchased = One pair donated."
" Besides selling glasses and sunglasses, the company collaborates with community partners to provide local vision screenings, eye exams and new eyewear to anyone in need
"….partners with the world's most iconic brands that contribute up to 50% of profits from (RED)-branded goods and services to the Global Fund [to help fight AIDS.]"
"…provides solar energy to communities in need around the world."
"…donates a portion of their profits to help residents of a rural Indian village have access to clean drinking water."
"…is dedicated to empowering women to become economically independent by selling handmade goods."
"… is an ethical fashion brand based in Panajachel, Guatemala showcasing Maya artisans and their handmade creations. Every Hiptipico item is thoughtfully handcrafted by indigenous communities, using high-quality sustainable materials….When you shop with Hiptipico, you know the authentic story of the artisan who made your product and the traditional technique and materials used to craft it. Through this dignified job opportunity, Maya artisans partner with Hiptipico to lift themselves out of poverty while doing something they love."
"Purchases of Out of Print products help fund literacy programs and book donations for communities in need."
"For every $3 we make, we give $1 away
As the original One for One® company, our community has given almost 100 million shoes to people in need. And while shoes can have a big impact, 13 years of using business to improve lives has taught us that giving shoes and grants can have an even bigger impact. So, moving forward, TOMS will dedicate at least one-third of our net annual profits to a giving fund managed by our very own Giving Team. We'll then distribute shoes and grants according to an annual investment plan that reflects the needs of the organizations we partner with, as well as the causes you care about most."
"…donates 50% of the profits to help fund programs that send girls [in India] to school"
100% of proceeds go to fund Africa New Life Ministries, to help those affected by Rwandan Genocide, as well as the following organizations:
Africa New Life Dream Day Care (free daycare for those attending training for sewing or beauty school in Rwanda)
Africa New Life Women's Center Vocational School (sewing and beauty school for widows, single parents and women in severe poverty to gain a skill to make money to support for their families)
Child sponsorship for orphans and street kids in Rwanda
Leonsito's Day Care in Mexico (free day care for single parents and low income families)
After school program in Leon,Mexico to help school children with their homework and teach English
Scholarships for Bible education for orphans, abandoned children and children in great need
A portion of every sale is donated to Firefighter and military charities.
"…is a Certified Benefit Corporation that exists to advocate on behalf of and empower women who have escaped from, or at the highest risk of, human trafficking by providing dignified employment opportunities. "
"For every product sold, United By Blue removes one pound of trash from our world's oceans and waterways."
That's all for this year.
Remember:
This is just a handful of organizations
who give back to the world.
If you have an organization
not on the list,
PLEASE feel free to post a link
in the comments,
along with a description,
for everyone to see.
THANKS!