I'm an intermittent faster, so I don't eat breakfast. However, I know most people do. So, inspired by my CRON diet article, I decided to repost this article, which highlights ways to eat veggies for breakfast. You really can't eat too many vegetables. If my research into caloric restriction taught me anything, it's the importance of eating LOTS of veggies!
---
HERE'S THE ORIGINAL ARTICLE
If you're anything like me, you grew up on cold, processed cereal, milk, toast and maybe orange juice as a standard breakfast. On weekends, maybe we had pancakes or eggs, or went out to eat. Fruit and granola with yogurt or oatmeal is also a popular standby for breakfast. Most people don't think of eating a lettuce salad or heaping bowl of veggies for breakfast.
But, maybe we should. Calorie for calorie, veggies give you the most "bang for your buck." Generally, you can eat unlimited amounts of non-starchy veggies every day. They are the most nutrient dense foods we can eat. While low in calories, veggies are also low in net carbohydrates,  high in fiber and power packed with vitamins, minerals, and phytonutrients, making them an AMAZING way to start the day, to increase your energy, and give your brain a boost, especially if you're not a morning person.
(…Like me- I HATE mornings!)
So, other than adding them to omelets, what's the best way to eat veggies for breakfast? In an effort to include more veggies in my diet, I went searching for breakfast salad recipes to include in my daily meal plan. I thought I'd share what I found with all of you.
Below, you'll find five breakfast salads and five breakfast bowls, all highlighting veggies as one of the main ingredients. Enjoy and namaste my friends.
Brainy Breakfast Salad
INGREDIENTS:
1 avocado
1 apple
1 TBL raisins
1 TBL Walnuts
1/2 TBL honey
1 teaspoon vanilla
1/4 tsp cinnamon
For the complete recipe, FOLLOW THIS LINK.
Avocado Citrus Crunch Salad
with Oat Croutons
and Buttermilk Drizzle
INGREDIENTS:
1 to 2 cups of torn butter lettuce
1 avocado, sliced
1 grapefruit, segmented
1 naval orange, segmented
1/4 red onion, thinly sliced
oat croutons
1/2 cup rolled oats
1 1/2 tablespoons sunflower seeds
1 1/2 tablespoons sliced almonds
3 garlic cloves, thinly sliced
1/4 teaspoon salt
1/4 teaspoon pepper
2 tablespoons maple syrup
1 1/2 tablespoons olive oil
black pepper buttermilk drizzle
1/3 cup low-fat buttermilk
1/2 lemon, juiced
1 tablespoon plain greek yogurt
1/2 tablespoon finely grated parmesan cheese
1/4 teaspoons pepper
1/8 teaspoon salt
For the complete recipe, FOLLOW THIS LINK.
Pomegranate Breakfast Salad
with Maple Vinaigrette
and Cinnamon Sugar Croutons
INGREDIENTS:
Cinnamon Sugar Croutons:
6 cups cubed Italian bread
3 tablespoons unsalted butter, melted
¼ cup sugar
1 teaspoon cinnamon
pinch of salt
Maple Vinaigrette
¼ cup maple syrup
¼ cup canola oil
1 tablespoon apple cider vinegar
2 teaspoons Dijon mustard
½ teaspoon salt
pepper to taste
Pomegranate Breakfast Salad
6 packed cups baby spinach
12 slices bacon, cooked and crumbed
1 cup whole pecans
1 cup pomegranate seeds
6 eggs, cooked sunny-side up
Blueberry Breakfast Salad
INGREDIENTS:
Mixed, torn salad greens: 2 pounds
Blueberry Vinaigrette: Recipe follows
Fresh blueberries: 4 cups
Fresh orange sections or canned mandarin oranges, drained: 4 cups
Granola : 2 cups
BLUEBERRY VINAIGRETTE
1 cup olive oil
1 cup frozen blueberries, thawed
1 tablespoon Dijon mustard
2 tablespoons brown sugar
2 teaspoons minced shallot
¾ teaspoon kosher salt
½ teaspoon ground pepper
½ teaspoon paprika
For the complete recipe, FOLLOW THIS LINK.
Sweet Potato Breakfast Salad
with Almond Butter Protein Dressing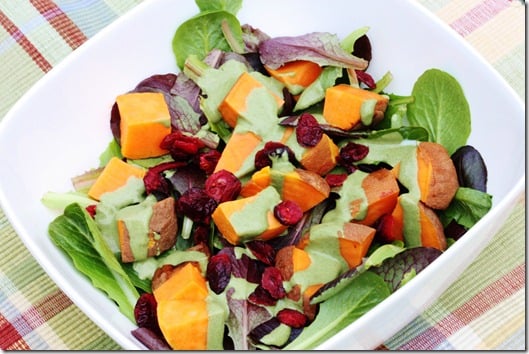 INGREDIENTS:
Serves 1; dressing makes 1 1/2 cups
1 small sweet potato, baked and cubed
3 cups baby romaine or spinach
1 tbsp dried cranberries
For the almond butter protein dressing:
1 cup almond milk
4 tbsp almond butter
3 pitted dates
1 serving vegan protein powder (or your favorite)
For the complete recipe, FOLLOW THIS LINK.
Warm Green Breakfast Bowl
INGEDIENTS:
1/2 cup quinoa
1 egg
1 tablespoon coconut oil
1 clove garlic, finely chopped
1 tablespoon almonds, roughly chopped
salt
handful of kale, leaves removed and torn into bite-sized pieces
small handful of baby spinach
3 slices haloumi (AKA: grilling cheese)
lemon wedge
1/2 ripe avocado
For the complete recipe, FOLLOW THIS LINK.
Hummus and Veggie Breakfast Bowl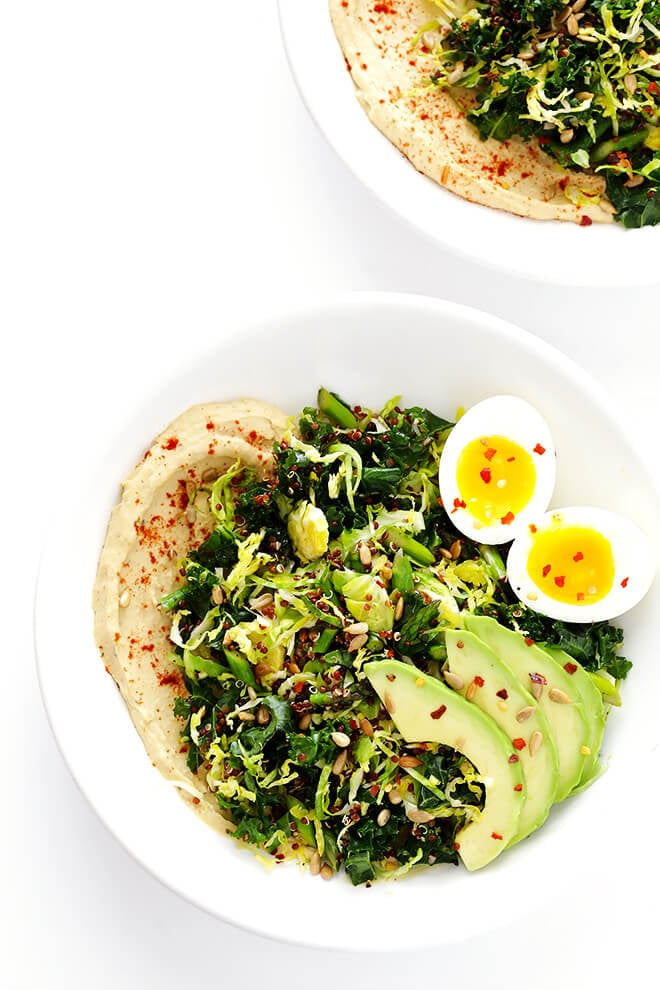 INGREDIENTS:
BREAKFAST BOWLS INGREDIENTS:
1 tablespoon avocado oil or olive oil
1 pound asparagus¹, cut into bite-sized pieces (with ends trimmed and discarded)
3 cups shredded kale leaves
1 batch lemony dressing (see recipe below)
3 cups shredded (uncooked) Brussels sprouts²
1 ½ cups cooked quinoa³
½ cup hummus
1 avocado, peeled, pitted and thinly-sliced
4 eggs, cooked however you'd like
garnishes: sunflower seeds (or sliced almonds), toasted sesame seeds, crushed red pepper
LEMONY DRESSING INGREDIENTS:
2 tablespoons avocado oil or olive oil
2 tablespoons freshly-squeezed lemon juice
2 teaspoons Dijon mustard
1 garlic clove, minced
salt and freshly-cracked black pepper
For the complete recipe, FOLLOW THIS LINK.
Very-Veggie Cauliflower Hash Brown
Breakfast Bowl
INGREDIENTS:
1/2 avocado
1/2 lime or lemon
garlic powder, salt, and pepper
2 eggs
extra virgin olive oil
1-1/2 cups cauliflower rice
4oz mushrooms, sliced
1 small handful baby spinach
1 green onion, chopped
salsa
For the complete recipe, FOLLOW THIS LINK.
Egg and Veggie Breakfast Bowl
INGREDIENTS:
1 pound Brussels sprouts
1 pound sweet potatoes
1½ tablespoons olive oil
2 cups arugula
4 eggs
2 tablespoon harissa
3 tablespoons apple cider vinegar
For the complete recipe, FOLLOW THIS LINK.
Breakfast Veggie Bowl
INGREDIENTS:
1 cup lentils
3 cups water
2 tbsp olive oil
1 tsp garlic, minced
½ cup leeks, sliced thinly (about 2 leeks)
1 zucchini
1 pint mushroom
1 cup spinach
1 tsp salt
1 tsp rice vinegar
1 tsp oregano
4 eggs