This edition of FIT BY 50, is dedicated to the late Aretha Franklin, queen of soul,  who died today, at her home in Detroit., at the age of 76, Here is a little video to remember her life:
I had a rough week, and was sitting here in my bedroom, pondering how to tell everyone how my week went. I was reading through some of my friends posts on Facebook, when a live video popped up, indicating that Aretha Franklin had died.
I decided right then and there to dedicate today's journal to her life and accomplishments. Born in Memphis, Tennessee March 25, 1942, her incredible talent was apparent early on. She was self-taught, and sang in her father's church. Her first recording contract was with Columbia records in 1960.  Her first international hit was the song "RESPECT" in 1967. She was a woman of many firsts:
With 18 Grammy's, she was one of the most honored artists of all time
She was the first woman inducted into the Rock n Roll Hall of Fame
The youngest recipient of the Kennedy Center Honors
She received the Grammy Legend Award in 1991
Three years later, in 1994, she received the Grammy Lifetime Achievement Award
She received the Presidential Medal of Freedom in 2005
She lived an amazing life, inspiring many people along the way and setting the foundation for many female singers to come after her. She is an inspiration to me. I hope she inspires you as well.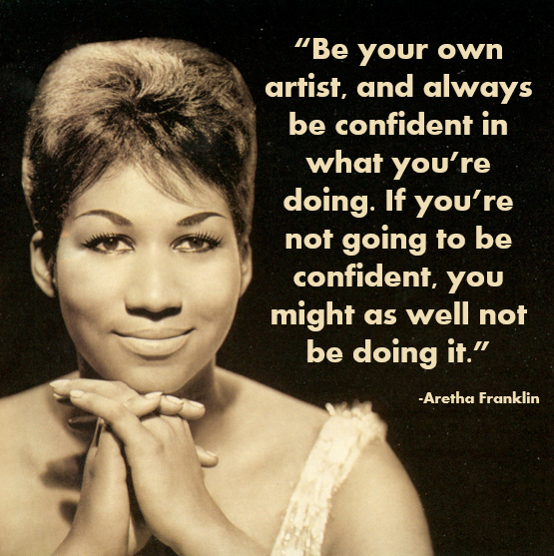 I almost gave up this week
I started the first week off in a HUGE hole, I almost gave up, but a couple of things kept me going . Isn't it funny how little things inspire you? How God reaches out, with little signals here and there to tell you to keep going and let you know you're not along?
After weighing myself last week, prior to posting my first FIT BY 50 article, I set out to conquer my goal of one pound. After all, it was only one pound, right? Well, I had a rough weekend and ate a little more "junk" than I should have, the result? Stepping on the scale Monday morning I realized I had gained 3 pounds in 3 days!! So, in order to lose the ONE pound, from last week to this week, I actually had to lose 4 pounds! I was heart broken and berated myself for being so stupid. I almost threw in the towel right then and there.
The first thing to reach out, grab me and inspire me not to give up was the video of Mandy Harvey, who didn't give up on her dream of singing, despite going deaf at the age of 18. Here's her incredible story and original song "TRY".
So, I plugged away the rest of the week. I got on the scale this morning and had lost 2.4 of the 4 pounds in the past 3 days. So, I am on my way to getting back on track. My initial instinct was to tack the remaining  1.6 pounds onto next weeks 1 pound goal for a total of 2.6 pounds. BUT…I decided that would be too much pressure and stress. So, I decided to break it up over the next 3 weeks, adding 1/2 pound a week onto the original goal of 1 pound a week. So, my goal for next week is 1.5 pounds.
The other thing to keep me going was the life and accomplishments of Aretha Franklin. I now know, after my inspiring, though rough, week, that I am not alone. I will never walk alone, because God is always by my side. I leave you with a song by Aretha Franklin called, YOU'LL NEVER WALK ALONE…a good reminder to all of us.
Until next time…Namaste my friends
You'll never walk alone…