The consumption of sugary beverages, such as soda is much too high in the USA. Approximately 63% of youth and 49% of adults drink sugar-sweetened beverages daily. During the summer, it's so easy to reach for a cold soda, pop the top, and guzzle down the cool drink to quench our thirst.
BUT…does this quench our thirst? What exactly happens to us when we drink soda? This video is a good reminder for a soda addict, such as myself, just how horrible soda is for the body!
THIS POSTER IS GOING ON MY FRIDGE!
While water should always be your go to drink, at all times of the year, but especially during the summer heat, we all need a refreshing treat now and then. I've gathered together 10 amazing summer drinks, that are healthier than regular soda. I tried to find  the healthiest drinks possible, but,  some do have fruit juice in them. Now, fruit juice is a bit better than soda, (but not much). Juice does a few remnants of nutrients, but it also has natural sugars. In some cases, juices may contain as much sugar as a soda. (SEE ABOVE). However, juice does not have the added caffeine, flavorings, colorings or phosphoric acid, which is contained in soda.
NOTE: I urge you to use fresh pressed juiced, as often as you can, if possible, as the vitamin and mineral content is MUCH, MUCH, MUCH higher than store bought juice. If you cannot press your own, try to buy organic brands. I also remind you these are for occasional treats, and not to replace your regular water intake. ENJOY!!!
EATING WELL
INGREDIENTS:
2 cups fresh berries, such as strawberries, raspberries, blackberries or blueberries, or a mixture, plus more for garnish

½ cup orange juice

2 tablespoons lime juice, plus lime slices for garnish

2 tablespoons honey

3 cups lemon-lime seltzer or soda water

Ice cubes
CLICK HERE FOR COMPLETE RECIPE 
EATING WELL
INGREDIENTS:
5 green tea bags

8 cups boiling water

10-15 fresh mint springs (1½ cups)

Honey or stevia (optional)

Ice cubes
CLICK HERE FOR COMPLETE RECIPE
SKINNY MS.
INGREDIENTS:
1 quart of water (we use distilled water)
2 tablespoons honey or pure maple syrup (optional)
1/2 teaspoon of Sea salt
1 pint no sugar added orange juice
Juice from one lemon
CLICK HERE FOR COMPLETE RECIPE
SKINNY MS.
INGREDIENTS:
2 cups chopped seedless watermelon, Chilled
1/2 cup pomegranate juice, no sugar added
Juice of 1/2 lemon
1 mint leaf
CLICK HERE FOR COMPLETE RECIPE
DIETHOOD
INGREDIENTS:
4

 

cups

 

boiling water

8

 

bags

 

hibiscus tea 

1/2

 

cup

 

honey

ice

2

 

cups

 

sparkling water

1/4

 

cup

 

mint leaves

strawberries

 

for garnish
CLICK HERE FOR COMPLETE RECIPE
HOUSE OF YUMM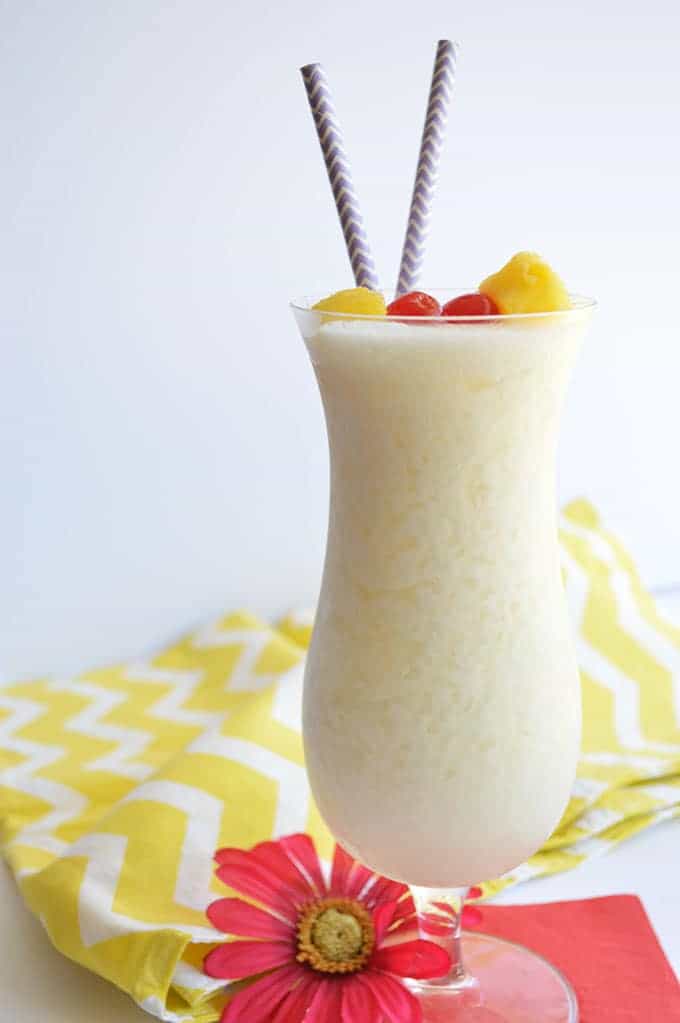 INGREDIENTS:
1 cup cream of coconut (usually found in a can by the Hispanic foods)
3/4 cup pineapple juice (I used canned juice)
2 cups ice
Optional garnishes – Maraschino cherries and pineapple chunks
CLICK HERE FOR COMPLETE RECIPE
THE RECIPE REBEL
From THE RECIPE REBEL, here are a few ways to make a 2-ingredient slush
Frozen mango and pineapple juice
Frozen blueberries and grape juice
Frozen mixed berries and orange juice
Frozen raspberries and cranberry juice
Frozen berries – any kind — and iced tea
CLICK HERE FOR COMPLETE RECIPE (and more ideas)
COOKING CLASSY
INGREDIENTS:
8

 

oz

 

fresh strawberries

 

, chilled, hulled

1

 

ripe banana

 

, peeled and frozen

1 1/2

 

cups

 

frozen pineapple

1

 

(5.3 oz) container coconut Greek yogurt

1 1/4 – 1 1/2

 

cups

 

unsweetened coconut milk beverage

 

(the kind found in the dairy isle)*
CLICK HERE FOR COMPLETE RECIPE
USE YOUR NOODLES
INGREDIENTS:
3 peaches
600 g strawberries
1 1/2 cup apple juice
1 1/2 sparkling water
abundance of crushed ice
CLICK HERE FOR COMPLETE RECIPE
SIMPLE VEGAN BLOG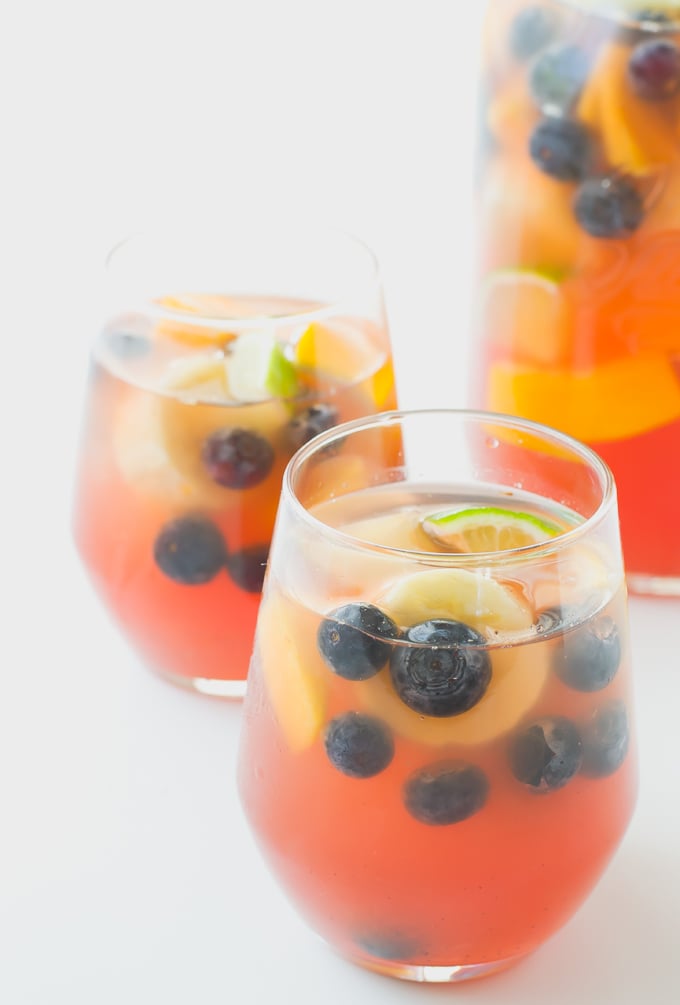 INGREDIENTS:
4 cups white grape juice (1 l)
1/4 cup blueberries (40 g) + 3/4 cup blueberries (120 g)
1 cup orange juice (250 ml)
Juice of 1 lime + 2 limes
2 oranges
2 bananas
2 peaches
CLICK HERE FOR COMPLETE RECIPE
SOURCES: