Stone stacking, or Cairn building has been around since the dawn of time. This short, 30 second video tells what they are and the significance of the cairn.
Stone stacking is a form of active meditation, like walking meditation, and I was hooked from the first time I tried it. I quickly got lost in the skill and art it takes to stack the stones. All other worries or concerns of the world around me fall away. I could feel the stress leave my being as all thought focuses on the stones, their vibrations and the skill required to stack the stones.  I find traditional meditation, sitting with my legs crossed and "focusing" very difficult. I do much better with active forms, such as yoga, walking meditation and stacking stones. If you have trouble with "traditional meditation", give this a try.
As you get the hang of stacking stones, your stack will fall, MANY TIMES. You'll feel frustration seep in…use these opportunities to refocus, take a deep breath, release any frustrations or stressful thoughts that seep in and begin again.  You will get the hang of the "feel" of the stones, where they fall, and how to counteract that feel. The best part about this…it doesn't require any specialized equipment. I look for flat stones when I am on walks with my dog, Max. My rocks below are a combination of river rocks (the black ones) and rocks I found on walks.
Here are some of my own personal stacks:
You can buy zen rocks online, however,

if you are interested.

Here are a few places to purchase zen rocks: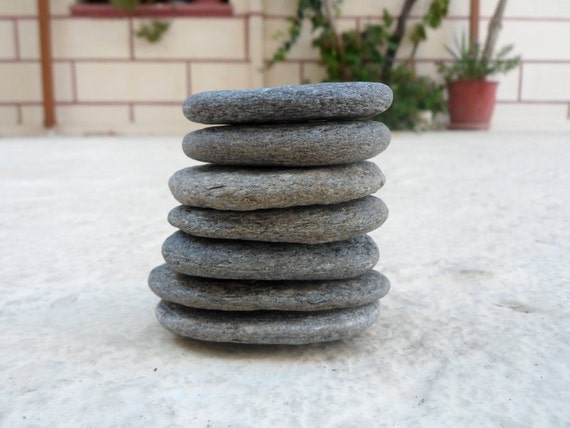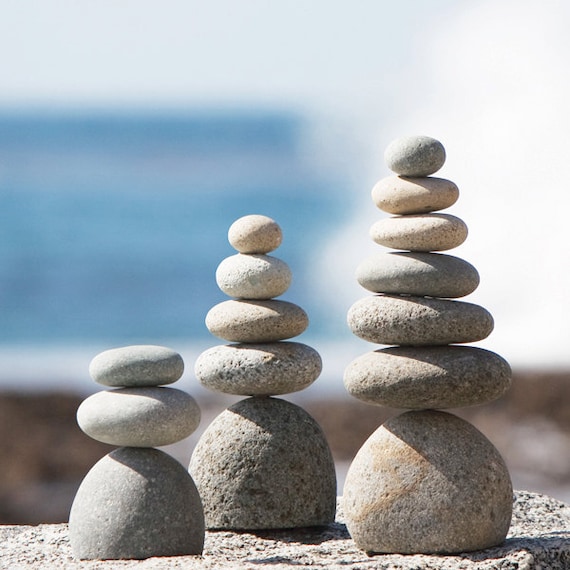 Below is a 10:52, sort of meditative, video

in which the art of stone stacking is discussed.
I searched for at least an hour for a "guided" meditation for stone stacking. (I don't use one, but wanted one for you all!) The video above was the best I could find. So, my recommendation, and what I do, is play some relaxing, meditative music in the background and stack stones. I have included a 1 hour video with meditation music, (with some stone stacking inspiration) designed to help you connect body, mind, soul and find inner peace.
Featured photo Source: The Yoga of Balancing Stones